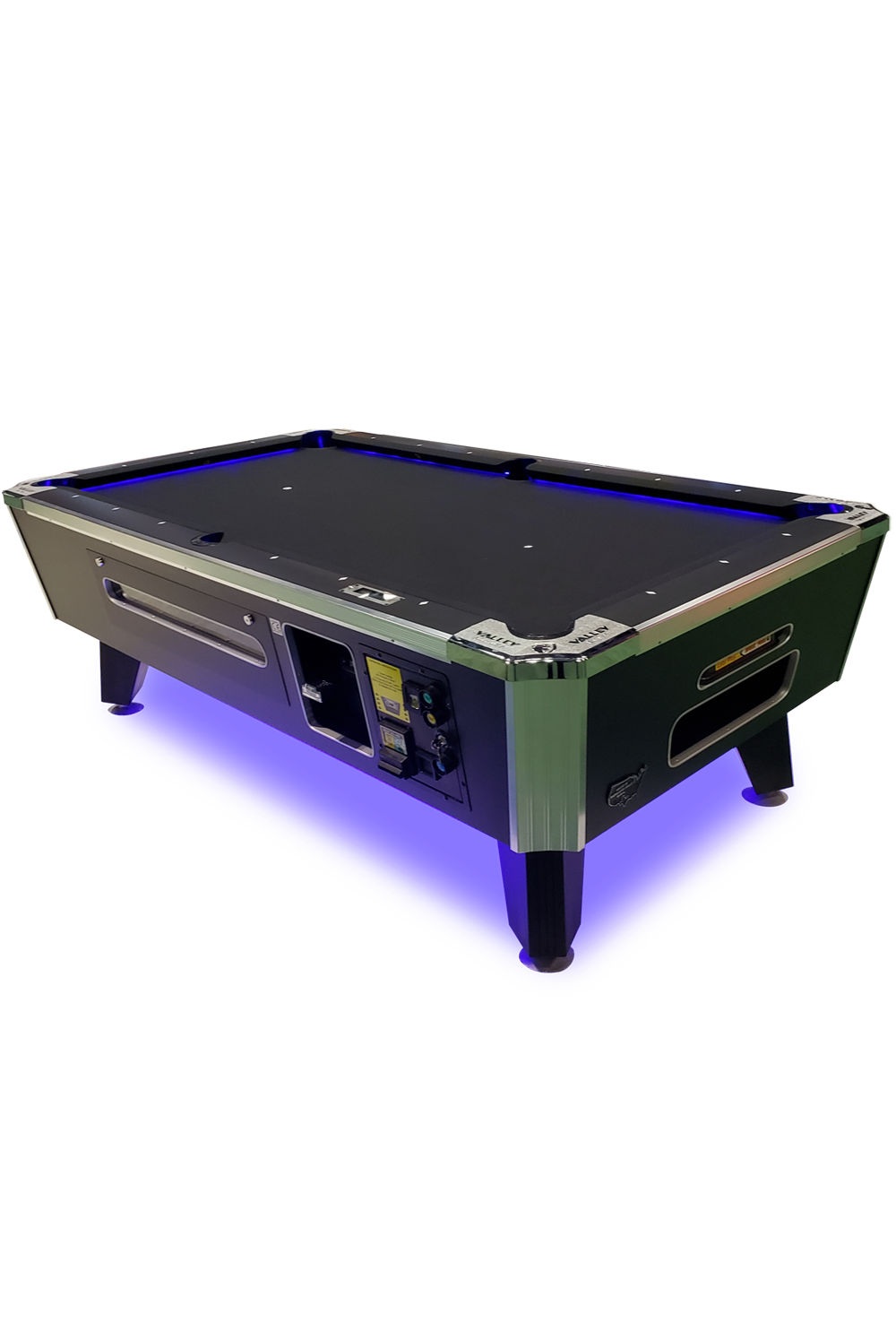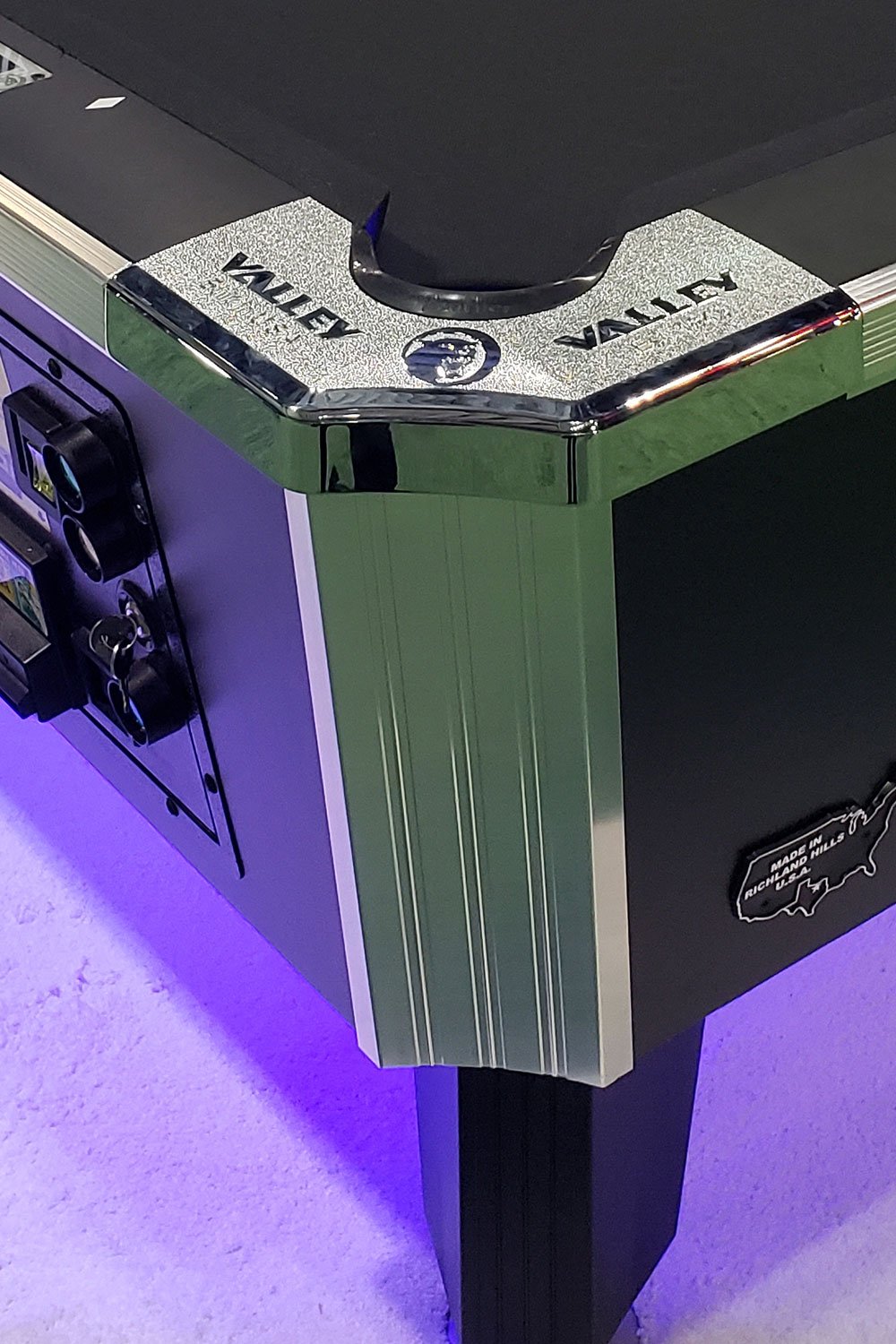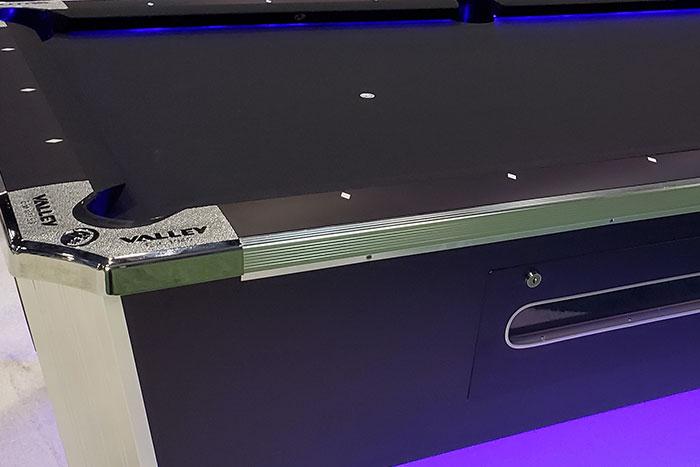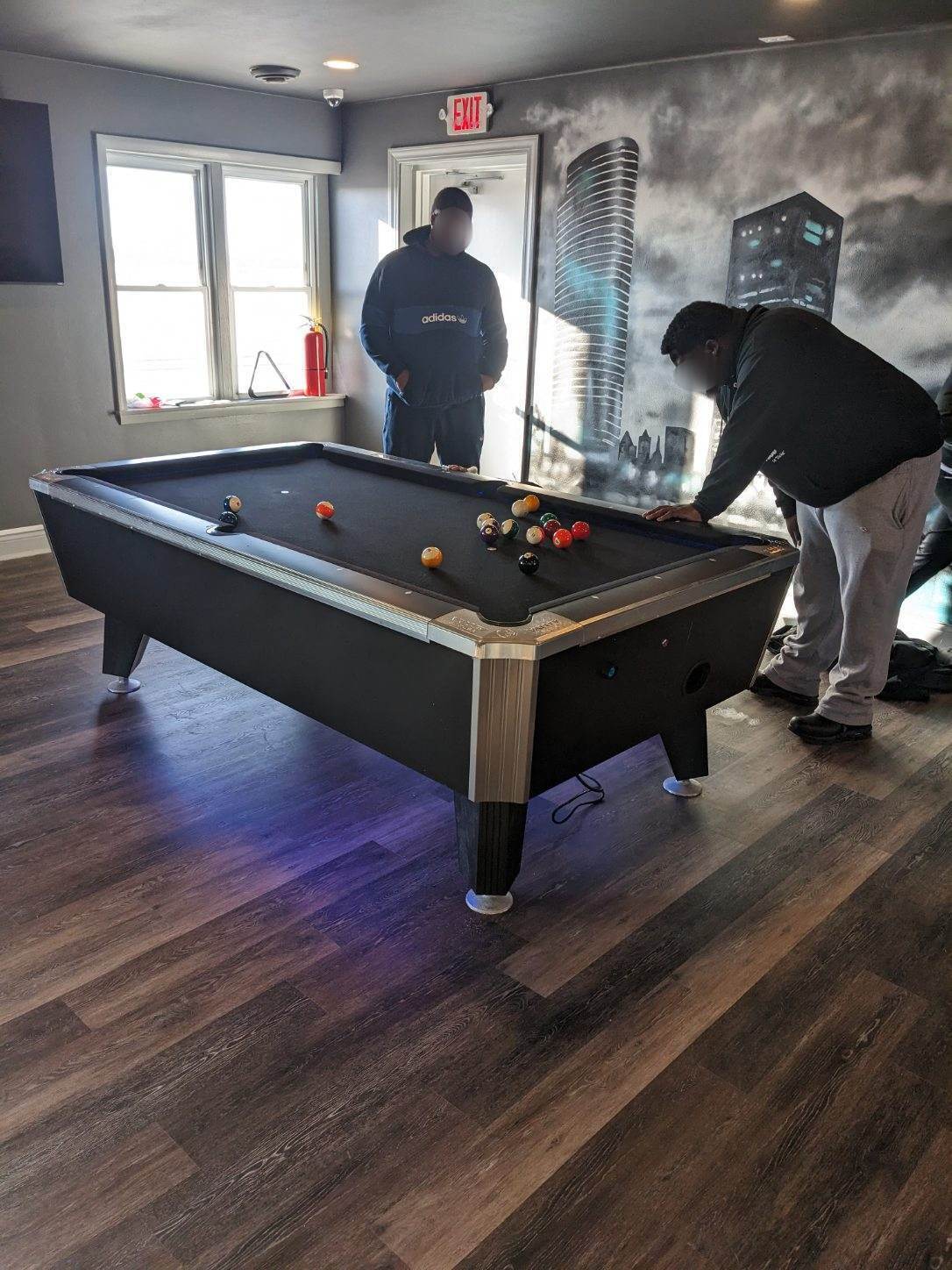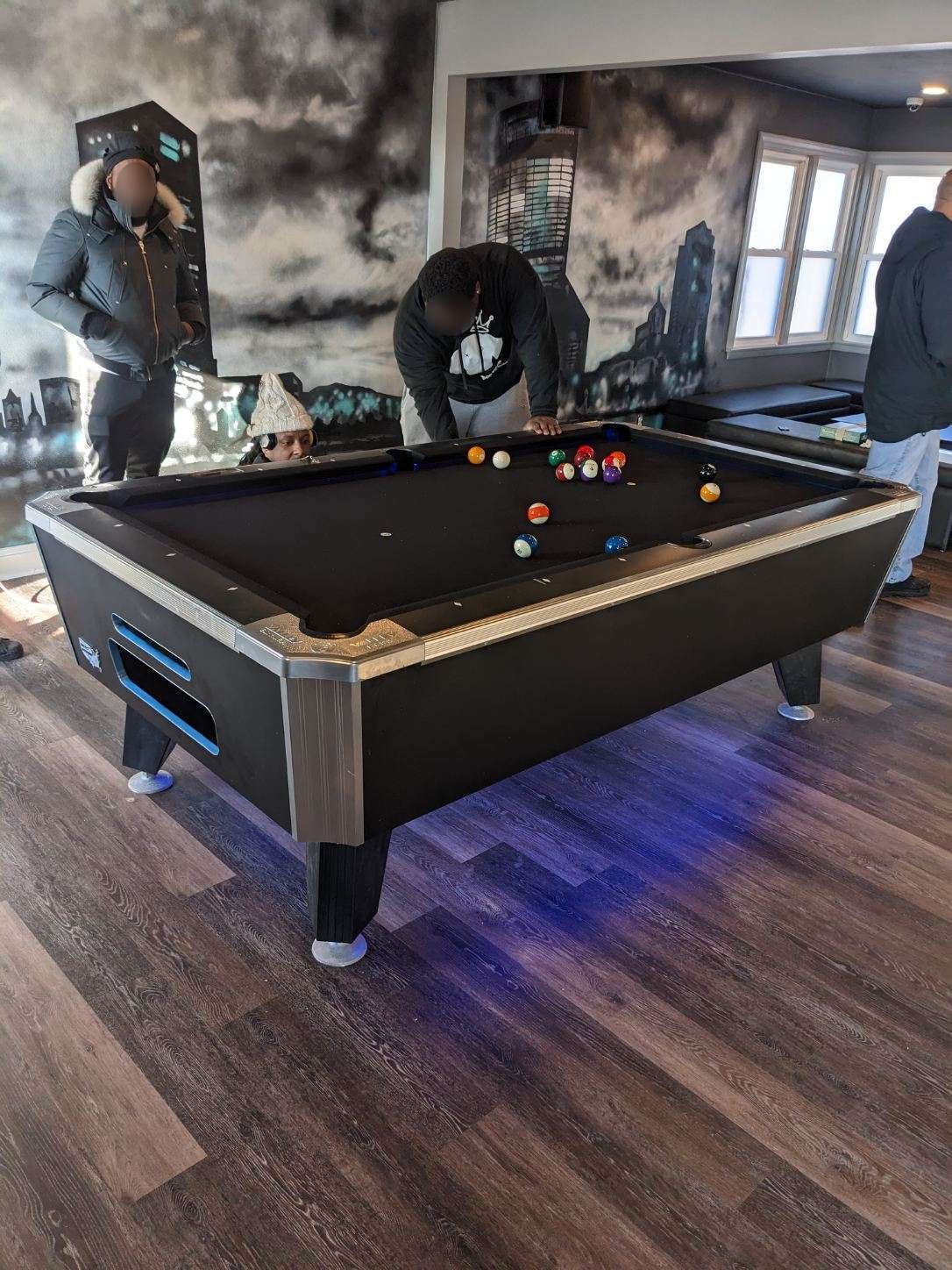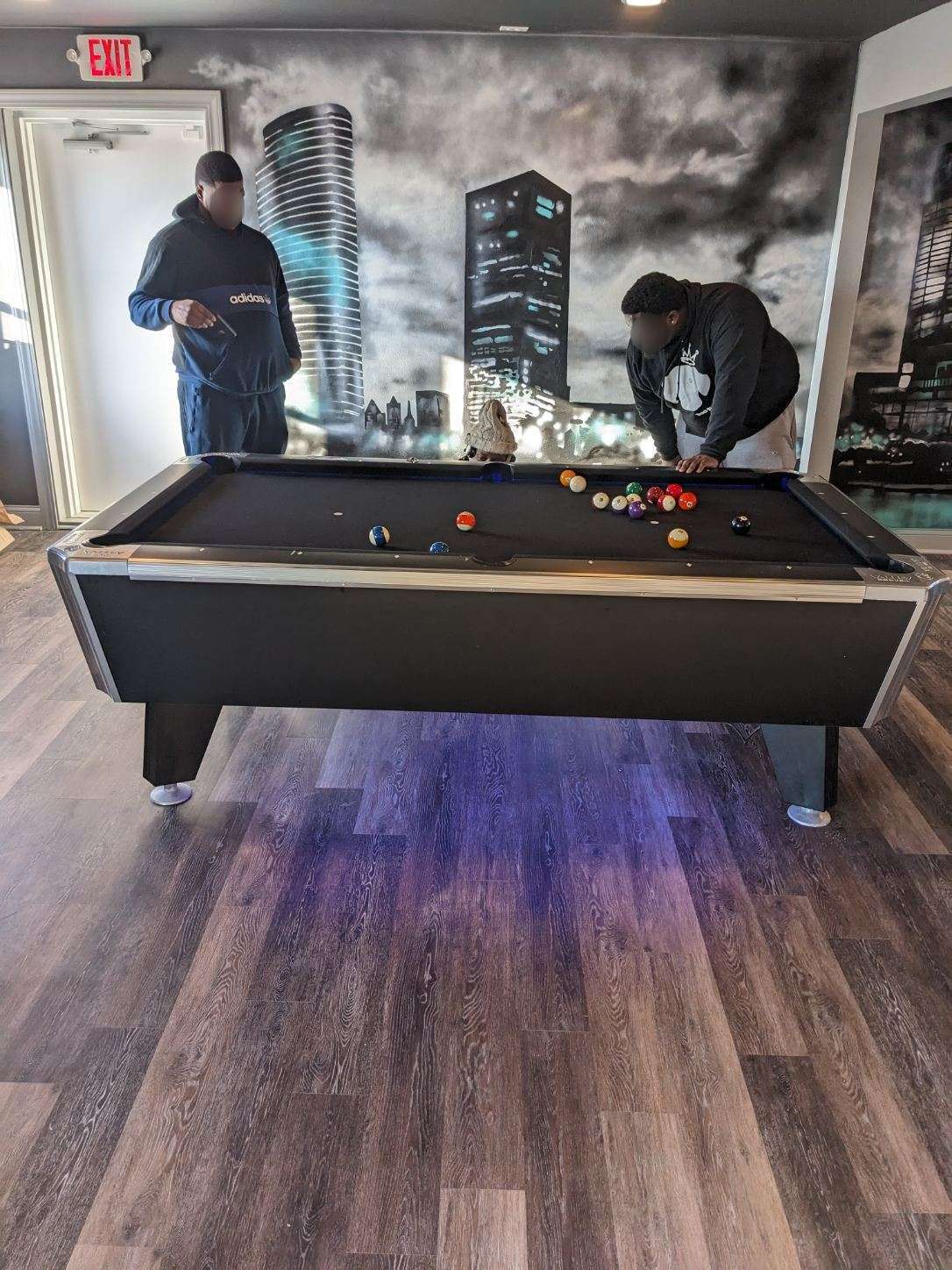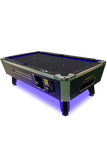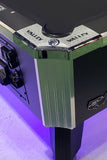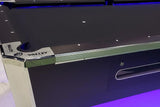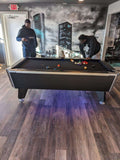 Valley Panther ZD 11X LED Coin Operated Pool Table
$6,59500

$6,595.00

Save $1,704
---
The price includes curbside shipping to most locations within the 48 contiguous states. Please read our Shipping & Returns Policy for full details.
Just like its cousin, The Panther ZD-X™, the new Panther ZD-X LED table now offers LED backlit cushion rails, pockets, and sleek under lighting which will jazz up any location.  This table is available in 7ft. and 8ft. models and comes in our standard black laminate finish with black cloth and blue LED lighting. You can customize your table in whatever color cloth and lights that we have available. The Panther ZD-X LED will require direct power and comes with a DBA, Push Chute, and LCD display for programming.  Our software incorporates League Dues management software, expanded accounting options,  and Happy Hour and, time play bonus pricing options. Our 5-bolt competitive style cushions come with Valley Ultra cloth designed for ultimate playability. This table comes standard with 4 cues, triangle, chalk, and a set of balls. The ZD 11X LED also comes in a Home Model version which includes a Start Button and eliminates the DBA and coin mechanisms.
**Call us at 407-845-9798 for BEST PRICING on multiple units**
THIS ITEM QUALIFIES FOR FREE DELIVERY AND FULL INSTALLATION IN A ROOM OF CHOICE (NO STAIRS). CONTACT US FOR MORE COMPLEX DELIVERIES ON 407-308-0090.
Main Features:
Large pockets ideal for faster play and better ROI
Fully self-contained DBA $1-$20 bill acceptor for increased profits, card reader ready available
Fully customizable LED Cushion rail and pocket under lighting
Programmable Software for automatic price changes during peak verse off-peak times
Features:
League function now allows the table to collect League dues – no lost envelopes
LED lit cushion rails, pockets, and under lighting
Built-in Rail mount LCD screen
Customizable Software allows for more pricing options than ever
Accounting and Auditing functions help Operators find what options were most popular in the location.
Fully self-contained DBA $1-$20 bill acceptor for increased profits
Card Reader Ready
Third Party Credit Card accessible
Pay Range compatibility through APP for seamless payments
Export capability from the factory. The Panther ZD-X LED can travel worldwide without board or software changes
Dimensions 88":
Length: 88"
Width: 50"
Height: 31"
Slate: 3/4"
Weight: 710 lbs
Dimensions 93":
Length: 93"
Width: 53"
Height: 31"
Slate: 3/4"
Weight: 775 lbs
Dimensions 101":
Length: 101"
Width: 56"
Height: 31"
Slate: 7/8"
Weight: 950 lbs
Valley Accessories Set Include:
4 Cues
Ball set
Triangle
Chalk


Our successful installations speak about us. Every business day, at least few of our game tables are being installed in a different home across the US. Most of our installations can be found on our ProPoolStore Facebook Page.    

Part of a large family of gaming stores, we carry the biggest inventory of game tables nationwide! 
Having a game table in your home, office, arcade, church, meeting hall, school, or other location is about one thing only: having fun! Our service is designed to ensure that every step of the way, including choosing and ordering your game table, is easy and enjoyable so that nothing takes away from your great time. 
To do this, we come at pool table sales from two angles.
The first is offering you excellent deals and the largest selection of online inventory, hands down. If you are looking for top-of-the-line billiard table to put some fun back into your atmosphere, we can help you find what you're looking for – and likely already have it in stock! The second is our excellent customer service that continues long after you buy your table. 
We have provided a fast and fun ordering process to companies like Google and MTV, as well as a huge list of universities, churches, and households around the nation.
We ship through a variety of shipping companies, to ensure not only speed but also a speedy arrival. Our knowledgeable team, originally just a brother and sister duo, is experienced in offering great customer service to these companies, and is committed to giving you the same excellent help.
We start with our easy ordering system, which helps you find the table you need and get it ordered in a matter of minutes. Our customer service team responds to most inquiries within a single hour, so if you have any questions along the way, you can reach out at any time.
Then we ship the billiard table out to you, and continue to be available if you ever have any questions.
It really is that easy to turn your space into a great entertaining zone for you, your family, and your friends.
Contact us today if you have any questions, or browse our catalogue to find great deals on the pool tables you need.
The Pro Pool Store guarantees the lowest price for an entire 6 months after purchase on all items!
For New Orders:

If you haven't purchased from us yet, you have two options to get the best price guarantee:
1. If you see the item on our website, order it today and we will guarantee it is the best price anywhere online for an entire six months after purchase. If not, we'll refund you the difference!
2. If you can't find the item you are looking for, or you want options or other custom additions not listed, call or email us at support@propoolstore.com and we will put together the lowest price quote you will find anywhere online, guaranteed.  

Just email us at support@propoolstore.com with your Purchase Order Number after you purchase. 
Our 100% Price Guarantees terms and conditions:
The price guarantee is valid for up to an entire 6 months after purchase!

Please purchase the item from us before requesting your Price Match

Clearance or Special Promos, such as buy one get one free aren't eligible

The item be in stock on the competitor's website

The price match applies to online-only retailer  ie. Costco isn't eligible, or stores that have a warehouse

Auctions or any kind of liquidator sites such as Overstock or eBay aren't eligible

The competitor must be an authorized dealer and follow dealer MAP Policies

The guarantee includes the total price of both item and shipping charges

QuadPay or TimePayment transactions are not eligible

Any product purchased with a third party warranty service, such as Clyde or TimePayment, is not eligible for a Price Match. No exceptions.

All Berner Billiards and Brunswick Billiards products are excluded from the Price Match Policy
Feel comfortable knowing that you are paying the best price for all purchases on the Pro Pool Store  - place your order today and leave the rest to us!
Contact us today at support@propoolstore.com.