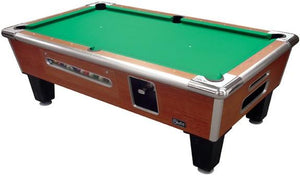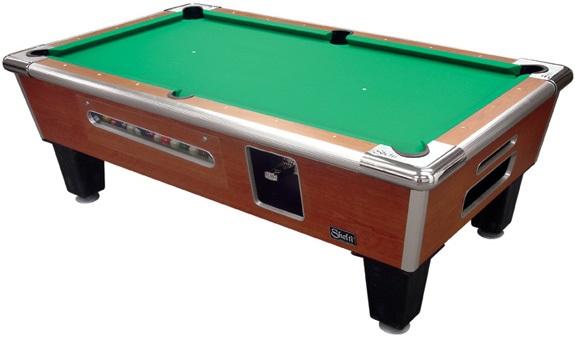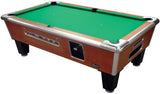 Shelti Bayside Sovereign Cherry Pool Table (Coin Op)
---
The price includes curbside shipping to most locations within the 48 contiguous states. Please read our Shipping & Returns Policy for full details.
Shelti Bayside Sovereign Cherry Pool Table (Coin Op) is a High-Performance New Coin Pool Table. With Shelti, You Can Bank On It!
In Bay City, MI—a town that reflects its proximity to the Saginaw Bay in the water and its name—designing finely engineered, yet straightforward coin operated pool tables has been a way of life for nearly 50 years. While the name over the door at 333 Morton Street changed to Shelti, the devotion to improve a table's maintenance, playability, and overall profitability remains the same.

Quite simply, we know the less a technician is called to a table, the more you make while the table is played. And, years of league and tournament experience taught us that pool players in the know will choose the better table. It determines where they line up money for the next game. And, that reflects where we all know it matters most—in the cash box.
Features
Single-Piece Ball Trap Actuator Arm
Eliminates the push chute end and functions with less moving parts than other major manufacturers' tables.
Simplified Ball Trap Assembly With Bi-Fold Door Pivots
Enables trap assembly repairs and replacement to be performed through the service door without removing the slate.

Unitized Table Construction
Requires precision fit between the side and end aprons to the top rails and zinc die-cast corners. Adds to the cabinet's overall structural integrity and better ball response.

MDF Top Rails
Provides the straightness and density characteristics for accurate and more resilient play.
Anodized Aluminum Rail Trim
Full-coverage with fasteners under the rail to reduce contact and snags with patrons' clothing.

Pro-Am Cushion Rubber
Affixed with bolts that include a plastic shoulder washer to precisely locate the cushion rail at the proper play height. Tested and proven to provide exceptional ball rebound and accuracy off the rails.
Ball Return Chutes
Enlarged chalk openings in all six (6) arms and three (3) in the center return are wide enough for the chalk to go through on angles, reducing service calls.
Tavern-Tested Magnetic And Oversize Cue Separator
Works with Aramith's Standard (Cat's Eye) and Tournament (Green Dot/PR) Magnetic Cue Balls, and Magnetic Maroon Dot and "Mud Balls".
Championship Mercury Ultra 19-Ounce; 75% Wool / 25% Nylon Fabric Blend Cloth
Shaved and finished to look and play with the speed of a worsted cloth..

One-Piece Slate
Precision measured and ground as necessary for flatness within 10/1,000ths (0.010") of an inch. Ensures true ball roll.
Regulation Size Play Areas
Twice the "nose-to-nose" length of the width: 44" x 88" (101" table); 40" x 80" (93" table); and 37.25" x 74.5" (88" table). The 2:1, length-to-width play dimensions are critical for bank shots to respond at consistent angles for accurate pocketing
High-Impact Molded Legs
Made of plastic resins, reinforced with fiberglass. Legs overlap the aprons, adding to the overall table appearance and strength.
Interchangeable Parts With Other Major-Manufacturer Tables
Including cushion rails, slate, and more.
Assembled Size
88"—88"L. x 50½"W. x 32"H.
93"—93¼"L. x 53¼"W. x 32"H.
101"—101"L. x 56"W. x 32"H.
Cabinet Apron Ht: 17½".
Weight
88"—670 lbs.
93"—725 lbs.
101"—850 lbs.
Included

Leg Box with 12 Legs Bolts, Warranty Registration
Accessory Kit: Includes Balls, Cues, Chalk, and Triangle
Warranty
2-Year Comprehensive Warranty
Free Maintenance Package includes:
Aramith Ball Cleaner

Aramith Micro Fiber Cleaning Cloth

Wooden Brush

MC Master Chalk - 12 pcs
Downloads
Our successful installations speak about us. Every business day, at least few of our game tables are being installed in a different home across the US. Most of our installations can be found on our ProPoolStore Facebook Page.    

Part of a large family of gaming stores, we carry the biggest inventory of game tables nationwide! 
Having a game table in your home, office, arcade, church, meeting hall, school, or other location is about one thing only: having fun! Our service is designed to ensure that every step of the way, including choosing and ordering your game table, is easy and enjoyable so that nothing takes away from your great time. 
To do this, we come at pool table sales from two angles.
The first is offering you excellent deals and the largest selection of online inventory, hands down. If you are looking for top-of-the-line billiard table to put some fun back into your atmosphere, we can help you find what you're looking for – and likely already have it in stock! The second is our excellent customer service that continues long after you buy your table. 
We have provided a fast and fun ordering process to companies like Google and MTV, as well as a huge list of universities, churches, and households around the nation.
We ship through a variety of shipping companies, to ensure not only speed but also a speedy arrival. Our knowledgeable team, originally just a brother and sister duo, is experienced in offering great customer service to these companies, and is committed to giving you the same excellent help.
We start with our easy ordering system, which helps you find the table you need and get it ordered in a matter of minutes. Our customer service team responds to most inquiries within a single hour, so if you have any questions along the way, you can reach out at any time.
Then we ship the billiard table out to you, and continue to be available if you ever have any questions.
It really is that easy to turn your space into a great entertaining zone for you, your family, and your friends.
Contact us today if you have any questions, or browse our catalogue to find great deals on the pool tables you need.
The Pro Pool Store guarantees the lowest price for an entire 6 months after purchase on all items!
For New Orders:

If you haven't purchased from us yet, you have two options to get the best price guarantee:
1. If you see the item on our website, order it today and we will guarantee it is the best price anywhere online for an entire six months after purchase. If not, we'll refund you the difference!
2. If you can't find the item you are looking for, or you want options or other custom additions not listed, call or email us at support@propoolstore.com and we will put together the lowest price quote you will find anywhere online, guaranteed.  

Just email us at support@propoolstore.com with your Purchase Order Number after you purchase. 
Our 100% Price Guarantees terms and conditions:
The price guarantee is valid for up to an entire 6 months after purchase!

Please purchase the item from us before requesting your Price Match

Clearance or Special Promos, such as buy one get one free aren't eligible

The item be in stock on the competitor's website

The price match applies to online-only retailer  ie. Costco isn't eligible, or stores that have a warehouse

Auctions or any kind of liquidator sites such as Overstock or eBay aren't eligible

The competitor must be an authorized dealer and follow dealer MAP Policies

The guarantee includes the total price of both item and shipping charges

QuadPay or TimePayment transactions are not eligible

Any product purchased with a third party warranty service, such as Clyde or TimePayment, is not eligible for a Price Match. No exceptions.

All Berner Billiards and Brunswick Billiards products are excluded from the Price Match Policy
Feel comfortable knowing that you are paying the best price for all purchases on the Pro Pool Store  - place your order today and leave the rest to us!
Contact us today at support@propoolstore.com.