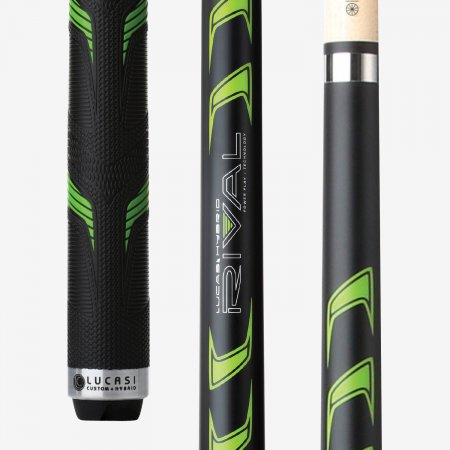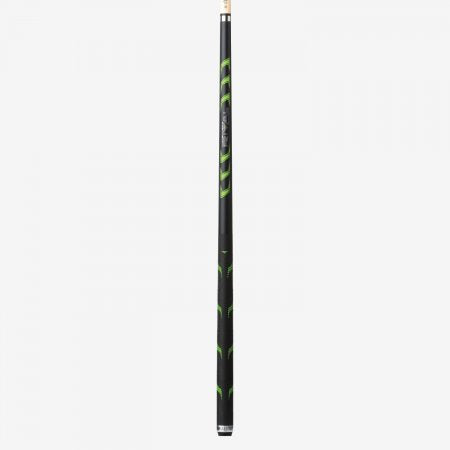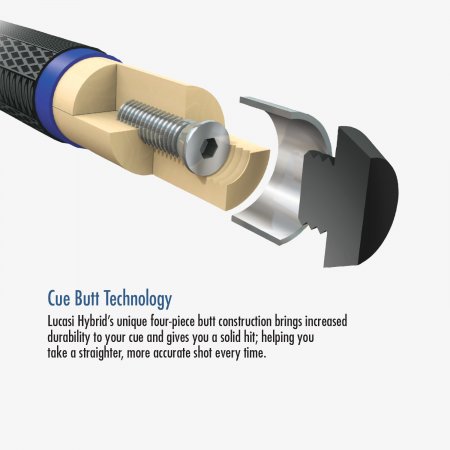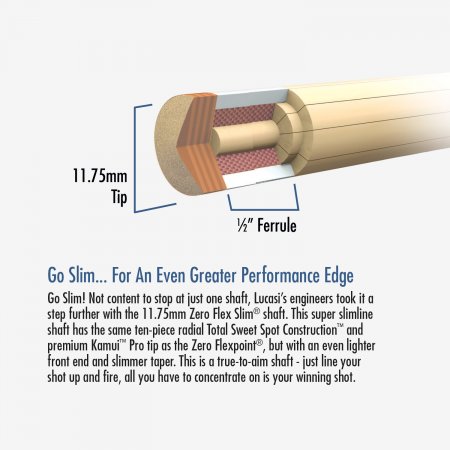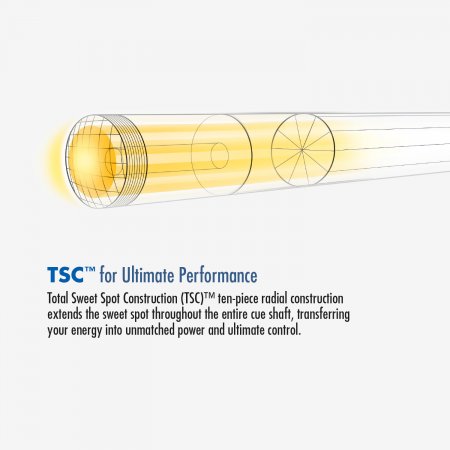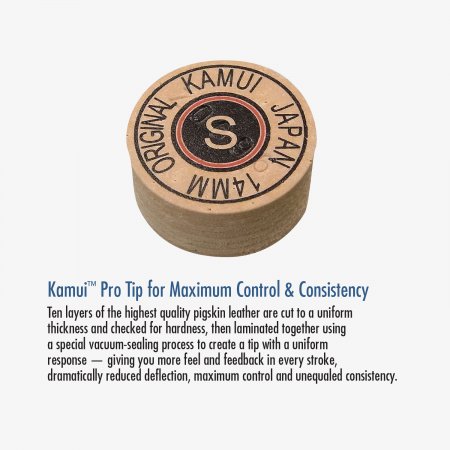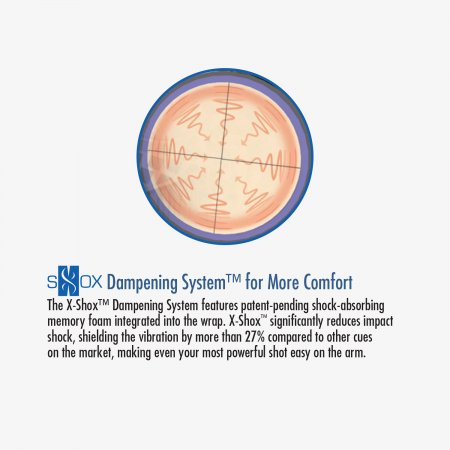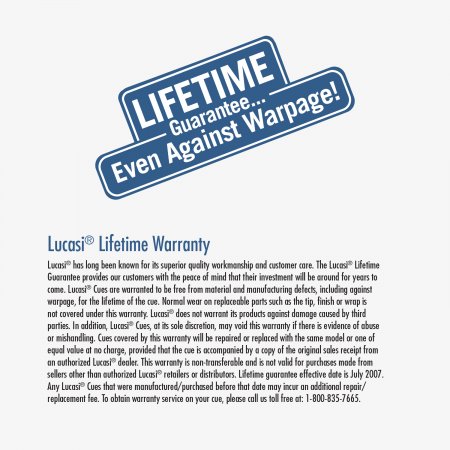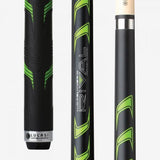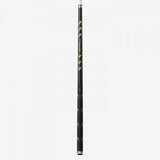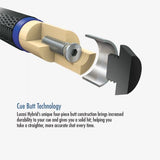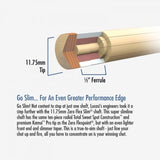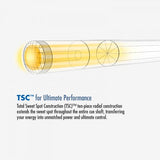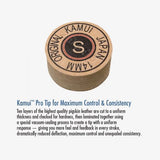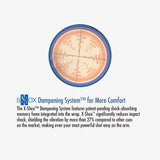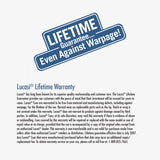 Lucasi® Rival Series LHRV24 Pool Cue
$58358

$583.58

Save $215.42
---
The price includes curbside shipping to most locations within the 48 contiguous states. Please read our Shipping & Returns Policy for full details.
Introducing the Newest Lucasi Line... the Lucasi Rival 10-pc Spliced Shaft series. This Lucasi Rival cue features Matte Finish Midnight Black, Metallic Green Rival Logo Graphic Overlay, Custom Lucasi Rival G5 Grip, a Kamui Pro Soft Tip, and an upgraded Uni-loc® Radial® 11.75mm Zero Flex Slim® Shaft
Uni-loc® Radial® Joint
Zero Flex Slim Low Deflection

 

Hybrid shaft with 10-piece radial TSC construction
Kamui Pro Soft Tip for maximum control and consistency
Custom

 

Lucasi Rival G5 Grip

 

with X-Shox™ Dampening Technology
4-piece Cue Butt Construction

 

for a solid hit and increased durability
Get A Competitive Edge With Lucasi Hybrid® Technology
We know how important your game is to you, and that's why Lucasi® has engineered our Hybrid cue line with superior performance in mind. We've taken the best that a Lucasi® Cue has to offer - and added a supercharged shaft and host of other performance-enhancing features so you can have your best game ever.
These cutting-edge technologies bring you more accuracy, greater ball control, a more solid hit with less vibration, reduced cue ball deflection, a smoother stroke and an increased level of comfort - all in one package.
Lucasi Hybrid® Technology Features
Cue Butt Construction - Unique four-piece cue butt construction increases durability and gives you a solid hit for a straighter, more accurate shot every time.
X-Shox™

 

Dampening System -

 

The patent-pending shock-absorbing memory foam integrated into the wrap gives a Hybrid cue significantly less impact shock, reducing vibration by more than 27% over a standard cue so even your most powerful shot remains easy on the arm.
Total Sweet Spot Construction (TSC)™

 

-

 

Ten-piece radial construction that extends the sweet spot throughout the entire cue shaft, transferring shot energy into unmatched power and ultimate control - no matter where you hit the ball.
Go Slim For An Even Greater Performance Edge - Lucasi's engineers couldn't stop at just one shaft - the 11.75mm Zero Flex Slim® shaft takes the technological innovation from the 12.75mm version, and slims it down to an even thinner taper with an even lighter front end. This translates into a true-to-aim shaft; just line your shot up and fire - the cue does the rest. All you have to concentrate on is winning.
Kamui™

 

Pro Tip -

 

Both Hybrid shafts feature the Kamui™

 

Pro soft tip. This tip is made from 10 layers of the highest quality pigskin that has been cut to a uniform thickness and checked for hardness, then laminated together using a special vacuum-sealing process to create a tip with uniform response. You get increased feel and feedback with every stroke, dramatically reduced deflection, maximum ball control and unequaled consistency - no matter where on the tip you hit.
Lucasi Hybrid® cues aren't just technology powerhouses - they're built to last! Just like our Lucasi Custom® cues, Hybrid cues feature a variety of styles - from sleek and simple designs that let the beauty of a gorgeous piece of wood shine through to traditional style cues with intricate inlays and beautiful exotic wraps, to sporty designs and edgy details like metal inlays.
Lucasi Hybrid® Cue Features
Precise fitting Uni-loc® Radial® joint for superior shaft alignment and a solid hit
Stainless steel joint collars
Laser cut inlays with intricate, precision cuts for a tight fit with zero gaps
Zero Flex Slim®

 

Technology Shaft
Additional technology shaft upgrades available
Custom Lucasi Rival G5 Grip with X-Shox™ Dampening Technology
Cue Type

 

Playing Cue

Joint Type

 

Uni-Loc Radial

Cue Tip

 

Kamui Pro Soft Tip

Ferrule

 

1/2" Zero Flex Slim Ferrule with Lightweight Core

Shaft Diameter

 

11.75mm

Shaft

 

Zero Flex Slim TSC 10-Piece Radial Shaft

Joint Collar

 

Stainless Steel

Cue Wrap

 

Wrapless

Wood Type

 

Maple

Butt Cap

 

Stainless Steel

Bumper

 

Custom Lucasi Rival Branded Black Rubber

Warranty

 

Lucasi Lifetime Guarantee

Weight Options

 

19 oz
Our successful installations speak about us. Every business day, at least few of our game tables are being installed in a different home across the US. Most of our installations can be found on our ProPoolStore Facebook Page.    

Part of a large family of gaming stores, we carry the biggest inventory of game tables nationwide! 
Having a game table in your home, office, arcade, church, meeting hall, school, or other location is about one thing only: having fun! Our service is designed to ensure that every step of the way, including choosing and ordering your game table, is easy and enjoyable so that nothing takes away from your great time. 
To do this, we come at pool table sales from two angles.
The first is offering you excellent deals and the largest selection of online inventory, hands down. If you are looking for top-of-the-line billiard table to put some fun back into your atmosphere, we can help you find what you're looking for – and likely already have it in stock! The second is our excellent customer service that continues long after you buy your table. 
We have provided a fast and fun ordering process to companies like Google and MTV, as well as a huge list of universities, churches, and households around the nation.
We ship through a variety of shipping companies, to ensure not only speed but also a speedy arrival. Our knowledgeable team, originally just a brother and sister duo, is experienced in offering great customer service to these companies, and is committed to giving you the same excellent help.
We start with our easy ordering system, which helps you find the table you need and get it ordered in a matter of minutes. Our customer service team responds to most inquiries within a single hour, so if you have any questions along the way, you can reach out at any time.
Then we ship the billiard table out to you, and continue to be available if you ever have any questions.
It really is that easy to turn your space into a great entertaining zone for you, your family, and your friends.
Contact us today if you have any questions, or browse our catalogue to find great deals on the pool tables you need.
The Pro Pool Store guarantees the lowest price for an entire 6 months after purchase on all items!
For New Orders:

If you haven't purchased from us yet, you have two options to get the best price guarantee:
1. If you see the item on our website, order it today and we will guarantee it is the best price anywhere online for an entire six months after purchase. If not, we'll refund you the difference!
2. If you can't find the item you are looking for, or you want options or other custom additions not listed, call or email us at support@propoolstore.com and we will put together the lowest price quote you will find anywhere online, guaranteed.  

Just email us at support@propoolstore.com with your Purchase Order Number after you purchase. 
Our 100% Price Guarantees terms and conditions:
The price guarantee is valid for up to an entire 6 months after purchase!

Please purchase the item from us before requesting your Price Match

Clearance or Special Promos, such as buy one get one free aren't eligible

The item be in stock on the competitor's website

The price match applies to online-only retailer  ie. Costco isn't eligible, or stores that have a warehouse

Auctions or any kind of liquidator sites such as Overstock or eBay aren't eligible

The competitor must be an authorized dealer and follow dealer MAP Policies

The guarantee includes the total price of both item and shipping charges

QuadPay or TimePayment transactions are not eligible

Any product purchased with a third party warranty service, such as Clyde or TimePayment, is not eligible for a Price Match. No exceptions.

All Berner Billiards and Brunswick Billiards products are excluded from the Price Match Policy
Feel comfortable knowing that you are paying the best price for all purchases on the Pro Pool Store  - place your order today and leave the rest to us!
Contact us today at support@propoolstore.com.